A peal of Grandsire Triples was rung today at Witney to celebrate the 775th Witney Feast.
With apologies for a the dreadful pun in the title, the peal was rung following the re-dedication of St Mary's this morning on the anniversary of the church's dedication to St Mary the Virgin on the 8th September 1243. This was the the occasion of the original Witney Feast when King Henry III granted two deer from the Royal Forest of Wychwood for the people of Witney to feast upon.
https://bb.ringingworld.co.uk/view.php?id=1245602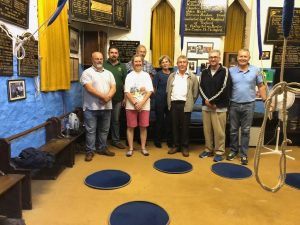 Band (l to r): Stephen Bowley, Richard Lewis-Skeath, Alison T Merryweather-Clarke, Anthony J Crabtree, Catherine M A Lane, Kenneth R Davenport (C), Neil R Ephgrave (1st peal on 8), Andrew Goldthorpe (1st peal).